Woobo Mini: Your Kid's Cuddly Storyteller
$49.99 $99.99
A cuddly STORYTELLER
A cheerful SINGER
A colorful NIGHTLIGHT
A smart PLAYMATE


Nursery rhymes, bedtime stories, folk tales, and lullabies — all included in Woobo Mini. 

Daytime Storyteller and Singer
Wide Selection of Songs and Stories
Tune into a large collection of songs and stories specially curated for toddlers ranging from 0–4 years old. Woobo has over 70 songs and stories, and we are constantly updating to add more content to our library.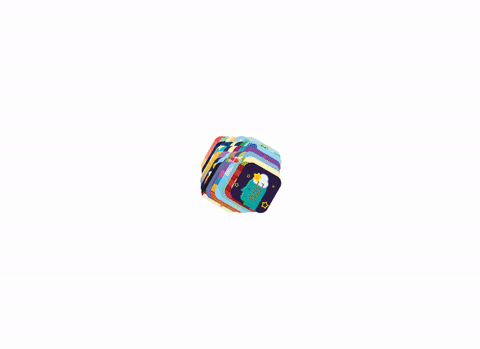 Bedtime Soothing Companion
Respectful of Kids' Bedtimes
Bedtime routines are special and unique to each family!  You can set Night Mode using the Parent App to help your kids go to bed on time. Selected white noise audio and soothing red and yellow lights will encourage them to sleep fast and tight.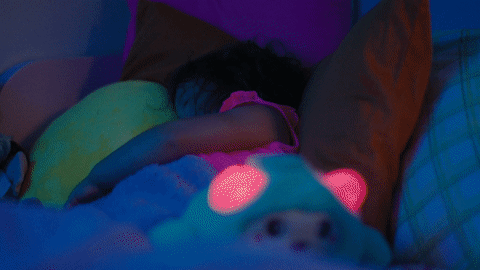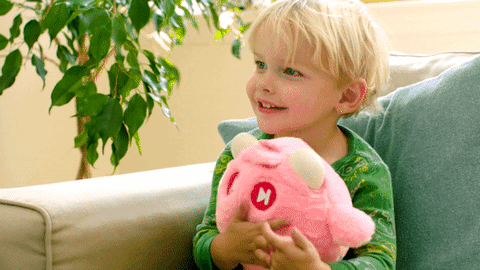 Voice Interaction/Q&A
Cute, Cuddly and Chatty
Besides being cute and cuddly, Woobo Mini loves to talk! Voice interaction enables you and your kids to ask Woobo Mini for a story or to play a song. In the mood for some conversation? Woobo Mini's Q&A capability allows for kids to ask questions such as - Why is the sky blue?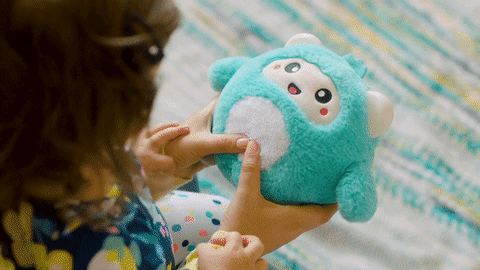 Offline Mode
Woobo Mini On-the-Go
Once you have completed setting Woobo Mini up, you have the option to use Woobo Mini without access to a WiFi connection! You can access 30+ saved songs and stories in offline mode. Did somebody say road trip?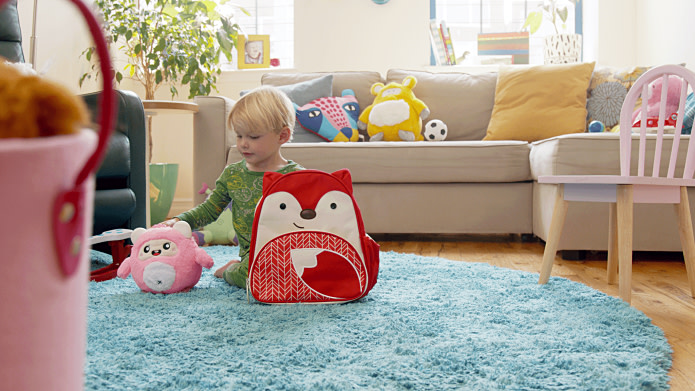 Controlling Playback
Multiple Ways to Control Playback
You can play a specific song or story from the Parent app, available for download from the App Store or Google Play Store, or let your kids DJ independently!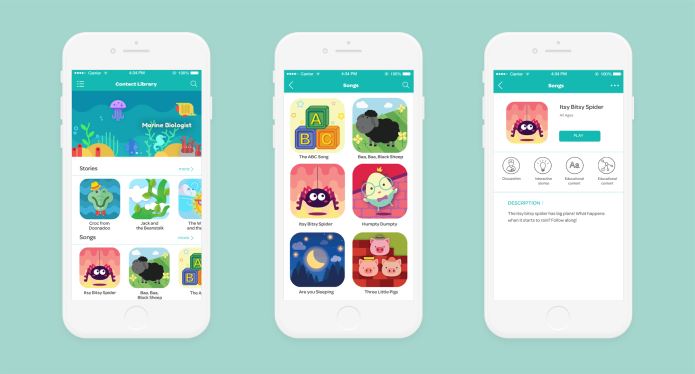 Woobo Mini has been carefully designed to allow toddlers to play songs and stories on their own! Toddlers can play, pause, or skip a song or story by pressing the large, simple, and colorful buttons.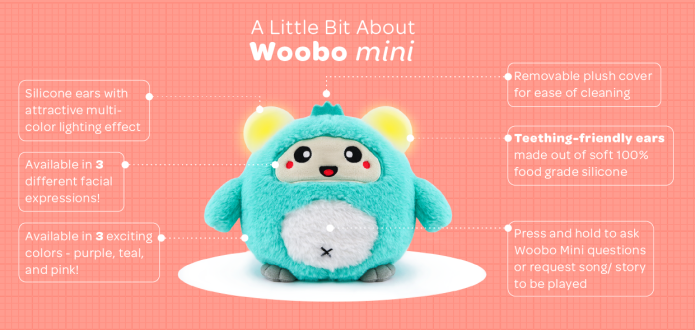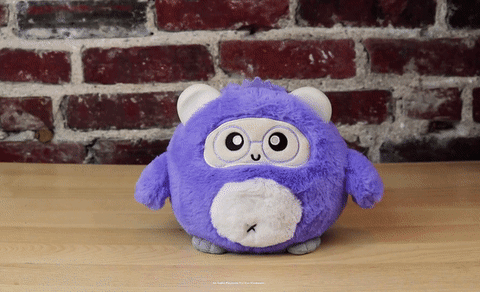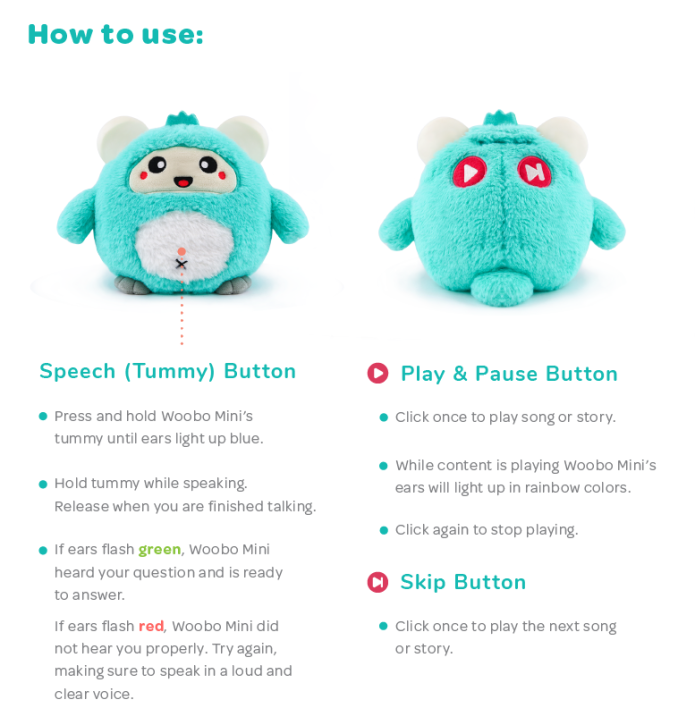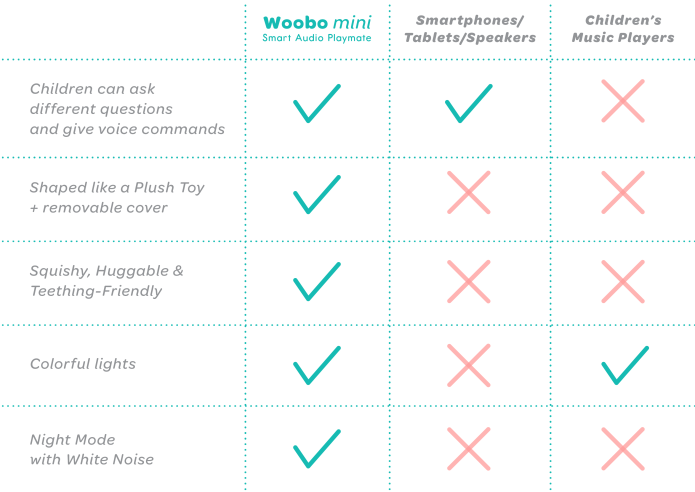 In developing Woobo—an AI-powered, interactive robot for kids ranging from 4 to 7 that fosters education through exploration—we realized that toddlers younger than 4 were missing out on the opportunity to be a part of the Woobo family! With the launch of Woobo Mini, we are set to expand our reach and delight 0-4 year olds as well.
Back us today to welcome Woobo Mini into your homes!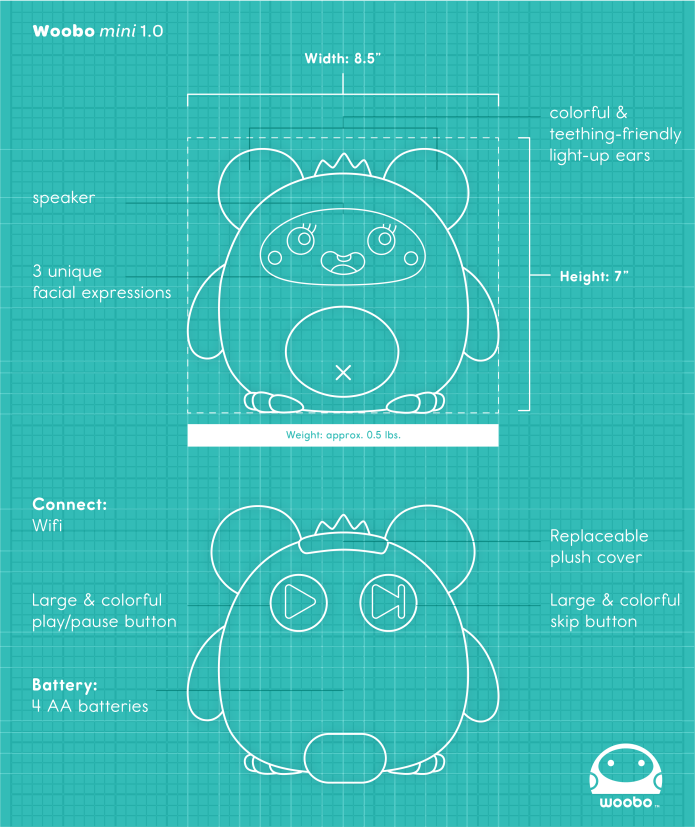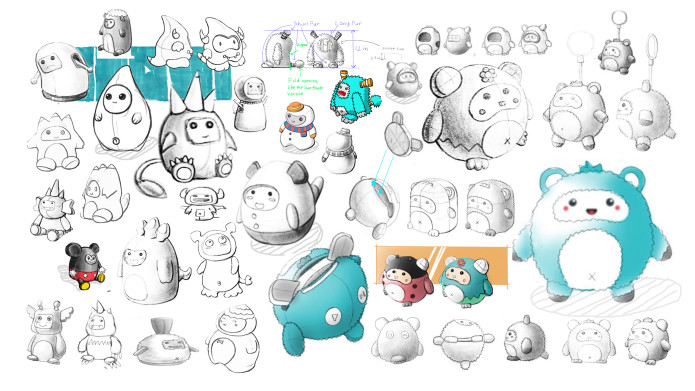 We have gone through three major prototyping stages, dozens of iterations, and hundreds of sketches. All these efforts over the past year shaped the Woobo Mini we know now. 
Woobo Mini has an adorable personality designed by our team that matches the cuteness of toddlers. Always eager to babble, Woobo Mini has different emotions which we portray through our unique, colorful, plush designs.